---
Rokushaku Fundoshi
You can make it by yourself from the Sarashi Cloth.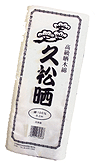 at 1760-yen (9.2m),
Click
Cut it at the length from 2.2m to 2.7cm. That's all!
If you have big waist, longer will be suittable.
Also, if you think it is too thick, cut it the cloth into half width.
Let's make your original fundoshi by
dyeing the cloth by Dyeing-powder(such as Dylon) or
stitching your name on the cloth and so on.